Alongside our fully functional bodyshop we have a purpose built training facility called the Autopaint Training Centre, where we run all of our specialised paint and repair courses, giving you real time hands on experience with in the Car and Motorbike repair industry.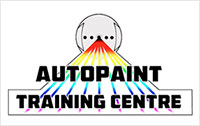 | | |
| --- | --- |
| For more in depth information, prices and a day to day break down of each course please click here. | |
We have been teaching people to paint for the past 12 years. With bodyshops and successful painters around the country and the world off the back of our courses, you will not find better training anywhere for all aspects of automotive paint and repairs.


Watch our video to see what our students get up to on the course
Please keep reading to find out a bit more about us and why you should choose us for your training.

My training is designed to cover all aspects of painting, whether conventional or custom. So, if you are serious about learning to paint or airbrush, in any form, then please take the time to read through this. I will tell you directly how I compare to other types of courses and how my training is different to anything else on the market.

I've been teaching and painting things now for far too long to talk to people with the "salesman pitch" or corporate approach. After all, I may have to spend a few weeks with you, so I would rather take your money by selling the course on a personal level. That way you know exactly what you're getting for your hard earned cash. In other words, let's skip the bullshit! The training may not be for everyone.
Or is it? So, first of all, let's see if my courses are right for you.
Ok, so what is it you are looking to achieve?

You would like your own car/bike body shop?


Are you a painter already and want to learn custom stuff?


Do you want to learn airbrushing?


Would you like to paint your own vehicle?


Do you wish to seek employment in a standards-based industry?


Thinking about setting up a smart repair van on the road with the ability to take on bigger stuff?


Car Sales - Do you want to paint your cars in house and save money, instead of relying on some poorly trained smart repairs guys?


Would you like a fun hobby? Or take on a second income needing very little space and set up costs?


Do you need to iron out your self-taught painting issues and doubts?


Are you looking to specialise in helmets, cars, bikes (or both), musical instruments, household items, interiors, models, exteriors, computer or games stations, wheels etc.?

Do you simply want to have the knowledge to cover all of the above?
Really?
OK, let's move on then!

1. I teach a maximum of 3 students per course
In case you noticed in my galleries, 4 are possible; however, this is only when it is an emergency and someone has to do that particular course. This doesn't affect your training in any way, except for my workload, as I'm busy enough with just three students. A larger student to teacher ratio would be unworkable for me and although I have a teaching assistant, it would affect your standards, considering the amount of logistics needed to keep things running smoothly.
2. I run a successful operational body shop
Which will give you the vital experience and feel of a paint business; especially for you guys wanting to set up your own shop, this in itself is priceless.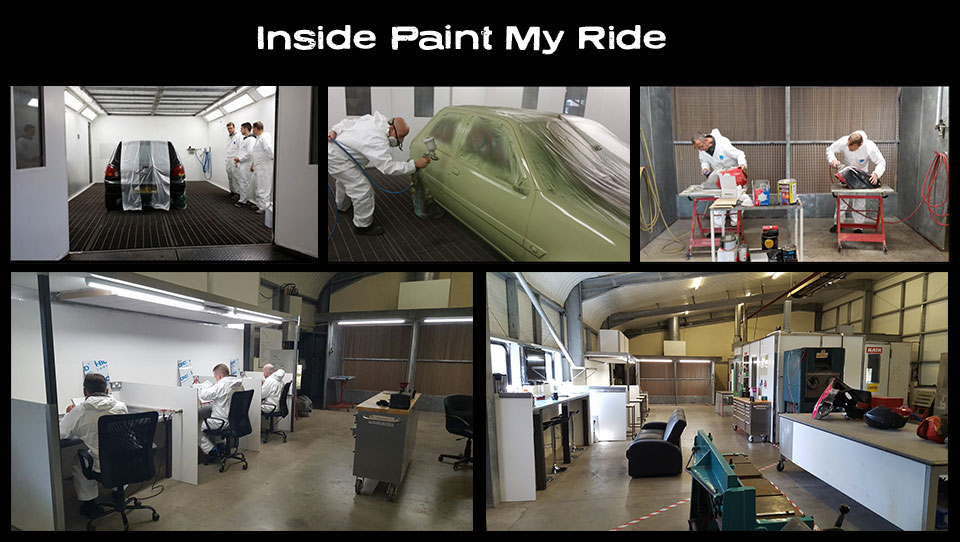 Anyone can put paint in a gun and change the colour of something, and for most painters the basic process is the same for us all. It is usually the small things in the paintwork that make all the difference. Learning in a real time place, doing real time work, is the key factor in learning and gaining the overall knowledge needed to run through a job smoothly. YOU WILL MAKE MISTAKES and if you don't, I'll be making them for you!

Being in an environment that enables you to make, understand and fix possible paint issues is absolutely vital! There are so many variables in paintwork, and unless you can experience them in real time, you will waste so much time, effort and money in the process. Being in an environment where your only restriction is health and safety, and where you can move around freely without having to worry about costs or time, is a true learning experience.

My building may be a little 'unconventional' to some, but everything in it has a purpose that will benefit you guys in your own set up. It would be unrealistic to teach you in big, expensive spray booths and certainly in a classroom environment. I don't care how much money you have to set up, all students are treated as if they are in same scenario, and that is that you're on a budget. The training is geared towards getting the skill in your hands, rather than adapting you to specific tools, for specific jobs. Obviously I do have expensive equipment; you will be shown how to use and that will give you a good feel between what's a luxury, as opposed to what you actually need to achieve perfection.

You will have a full body shop at your disposal and you will soon learn where everything is. The kit and consumables are there for you, so use them; I have no restrictions on extra practise or revision you may want to give yourself during the mornings before we start training, lunch or simply while you're waiting for paint to dry.

Your course bonus is your free day on the Sunday (this is the 11 day course only). It's a relaxed non-training day for you, without me rabbiting on over your shoulder. You can come in for an hour or for the full day; it's entirely up to you.
3. I have no interest in selling you equipment and supplies!
Now this would be an easy one for me, however, I've always chosen a different approach to others for two reasons. In my personal opinion, and from a moral standpoint, I don't feel teaching and selling should go together. I work closely with students and I don't feel I could maintain the bullshit, day after day, in order to profit from you. I would rather teach you how to achieve the finest results in all areas, using the basics of everything, and advise you on how to save money. Obviously, we're all on a budget and of course, I will recommend quality items and you will experience using them; but you will also experience doing the same thing without them. Then, after your course, it's up to you what brands you buy. It's my job to encourage success, and that means guiding you correctly from the start.
4. You get all the aftercare you need, forever!
Yes that's right! You will get my full support for as long as you need it. Either setting up at the beginning of your journey, or 5 years down the line, I'll always make myself available for you if you need my help. Also to this, I offer a free work experience day to all students.  Where, you can come and assist me on some real time work if you need to brush up on any skill fade you may have developed on any subject.
5. And finally, a bit about me!
I guess it's only fair to explain a bit about myself and then it's over to you to see whether you feel I'm qualified to teach you. Vanity is not one of my traits, but I guess ultimately, it's me you're paying for, so a quick CV, before I explain my course ethics to you.

Although I've dabbled in paint for most of my life, I started painting professionally in 2000. I worked from my single garage at home, doing bike repairs and custom work, as well as out on the road doing mobile car repairs (also known as smart repairs). Within a year I had more work than I could handle. That, and being outside in all weathers doing car repairs, prompted me to open PMR.

Feel free to have a look through my site to see what I specialise in, but I can assure you there isn't much in the paint world that I cannot overcome, in all areas of painting and repairs, on cars, bikes, and any other surface for that matter. Please remember that I do this day in and day out for a living.

I have both civilian and military teaching and assessor qualifications. I have taught various subjects, to various classroom sizes, from small groups to lecture halls. I run an authentic workshop experience, this means workshop rules do apply here and it is one of the things students always have good comments about and enjoy; therefore, my workshop does not have a classroom environment. I tend to cover various scenarios at one time, meaning I will bounce from a formal to informal teaching style where and when it matters. I tend to have a more forward and direct approach to my training. I understand that the people used to a more state educational type course, may find my methods of teaching a little less conventional at first, but you'll soon relax and get stuck into what really matters.

I have a high degree of patience, so if you're not doing as well as you should be, or you're making mistakes, don't worry! I'll be going through that with you and helping to bring you forward to where you should be. You're paying me to teach you new skills, and that is precisely what I will do. I lay a proud claim to helping many new successful businesses dotted around the country and around the world.
My course ethics are to get you to the best you can be, simple as that. It may even surprise you as to what you can actually achieve, no matter what your skill level may be. I purposely keep my course numbers low; this enables me to give you my full attention. I show all my students' main work in my galleries, and I think you'll agree there are some quality jobs and finishes. So it's in my own best interest to put the effort in.

Most days of the course, we start with teaching first, then real time practice for the rest of the day. Every day you will achieve something to show at the end of it, which will have you looking forward to the next day. While everything we do is enjoyable, I must warn you that there will be some hard work and a few stressful times to look forward to as well. Remember, you'll be going through the full process of things and learning not just a good working practice, but also the ability to be self-disciplined. It's a scary thing taking on your first real time paint job, in your own set up, especially if it's a paying customer; therefore there has to be an element of pressure on your shoulders.

We make all efforts to make you comfortable and well catered for during your stay. I am always at hand for any guidance you may need.
I have taught students of all levels of learning abilities, backgrounds and ages. As long as your heart is in it, I can teach you.

Now, let's look at 3 different course options you have available to you, with my honest yet non-biased opinion. I have tried to do some of the research for you, so you can make a more informed decision on what training path to take.
| | |
| --- | --- |
| | Airbrushing/Custom Paint |
(1 day intro to Airbrushing) (3 days all techniques) (5 day all inclusive)
"If you were going to go on a cake baking course, where would the logic be in skipping everything and going straight to the decoration stage?"

Before I start, I would like to clear up some very misleading myths surrounding this type of course. These are the main misconceptions gathered by my own research and my students' feedback and experiences.
For the beginners:
"Will I be able to paint a car or bike, if I learn to airbrush?"
If you go on this type of course, you WILL NOT be able to paint a car or bike, or, any other surface for that matter, if you're going through the full process of a custom paint job. Airbrushing is for artwork only, therefore a much broader knowledge is needed to tackle a full custom paint job.
If we take that airbrushed skull on the top of that Harley tank as an example, what else do we need to know to start and complete this job?

a. Does it have decals to remove?
b. Will it leave a Lacquer edge to be feathered?
c. If I sand through to metal, do I have to etch first before primer?
d. 1k or 2k primer and how will it affect shrinkage issues?
e. What colour?
f. How long should I leave it before sanding and how should I sand it?
g. Should I use a sealer for this area?
h. I'm spraying a light silver base for my airbrushed skull, should I flatten the tank dry, wet or maybe just use a scotch-brite pad?
i. What grit should I use so I don't get sinkage scratches?
j. What gun should I use? A mini or full size, 1.1, 1.2 or 3?
k. What if my silver goes on too dry (or too wet for that matter)?
l. Is my gun set up right?
m. I'm getting orange peel, am I too close and wet, or is my pressure too low? Maybe my paint consistency is too thick?
n. Water or Solvent based paint?
o. Shit! I have a reaction, how do I fix it? How did it happen?
"Phew! Everything went well, and now we can relax for a few hours and airbrush our skull."
OK, to finish the job off let's lacquer the tank.
a. Should we use high solids, or medium, and how many coats?
b. Do we need to sand it down the next day for a second lacquer stage?
c. Shit! I got a drip right on an edge, is there anything I can do while it's still wet?
d. I've sanded through to my paint trying to remove the drip, what do I do?
e. I used an airbrush to touch up my mistake, but it's gone darker in that area and I can still see a halo in the area I sanded through. Why?
Just a small insight into the process! I could go on and on, but I hope you can see where I'm coming from now.
If the claims are that you can paint cars and bikes, they are completely false.
"The instructor's work is outstanding; he must be the best teacher!"
When I'm teaching airbrushing, I purposely keep clear of all the glitz and glamour, and stick to teaching you core airbrushing techniques, which relate to all airbrushing jobs. I don't just focus you in on one specific image.

This may not be the best move for me to sell the courses, but I'm in the business of training you to handle an airbrush in a small space of time, not just to show you how to do a pretty picture.

My airbrush exercises, which you can see in the student galleries, are not easy for a beginner to achieve. In fact, Day One is what I call the 'shit-fuck-bollocks day', as its frustrating for everyone, and that's all I hear all day!

The glitz and the glamour come later on, as you can plainly see in the student gallery.



But surely it's the students' work you should be looking at, right? Nothing hidden, it's all on display for you to see the standard a beginner can achieve. I don't just have the odd student holding a really professional piece of art, and claiming it's off the back of a one day beginner's course. You see all my students' stuff in my galleries. At no point during my research could I see pictures of a class' average standard of airbrushing. All I saw on my research tour was endless pictures of the teachers' work, the back of students' heads in large groups, and images of state-of-the-art studios, spray booths and equipment. Not to mention some seriously over-inflated egos.
All of that goes against my style. I really don't need to waste your time and mine sitting there giving you endless demonstrations on how to achieve certain effects like how to airbrush wood, a chequer plate, rock, metal etc. Once you know how to airbrush these, individual looks can be easily learnt yourself, from your own assessment or from the many people giving demos on the net.

I class myself as a non-artistic air-brusher; this means I can airbrush an image in front of me to a very high standard and sell it. If it's art advice you need, I have that covered; Jennifer, my office manager and teaching assistant, is a qualified art teacher and is there to assist in any art related issues you may have. Some courses are run by outstanding airbrush artists and I have read statements saying, ''look at your teacher's work to see what standard you will be taught to''. This statement only compares their work to other teachers' work and it has nothing at all to do with the students' capabilities. These guys are 'artists', with natural ability to produce their standard of art, but they are the first to remind you that you don't have to be an artist in order to airbrush. This is true, to a certain degree. You don't, and I'm a prime example of that.

So if that's the case, surely it's all about techniques, right? Yes it is, and then natural artistic ability takes over to produce some of the teachers' work you see on these other course sites. So really the question is, who has the ability to get you to the best level you can be in the time you have? Again, have a look at my students' work and you'll see for yourself.

"Is it about learning to airbrush or being taught on specific products and equipment?"
I could tell you anything on my course and you would believe it, what else do you have to go by? I'm personally free of this misconception and always will be. So, if it seems a course is geared towards specific products, then maybe you won't get to see the bigger picture. Again my focus is on training and not building an ongoing customer base.

I teach both stencil and free hand airbrushing in my 3 day course, as well as lots of airbrushing on paper that you won't see in the pictures. The standard of airbrushing can be seen here, in this photo. This is a techniques board that we work on, and once you have completed this it's just a question of joining the different techniques together to achieve many other airbrush designs.

However, this does not teach you custom painting, in the form of flame jobs and larger designs, where block colours and pinstripes are used; the two are very different. Here the airbrush is used to emphasize your job and shading only, as the bulk of the work is done with masking and paint guns. This in itself opens up the realms of conventional painting and that, in itself, is a whole different subject altogether.

My 5 day custom course will take you through the custom paint process, so it includes a crash course on how to paint, lacquer and sand. It can be as intense as you want it to be, depending on what you want to get from it. During this you're taught on a flat surface, but you still go through the same process as the guys on the 11 day course.

Obviously it's hard for me to not sound a little biased; I'm just giving you a base to research for yourself. I'm not taking away from my competitors here as I'm sure they are all well-run courses in their own manner (and people enjoy them) but the proof is in the pudding.
| | |
| --- | --- |
| | Smart Repairs (small to medium area repair techniques) |
I really can't see any logic at all in paying £1000+ for a 5 day smart repair course to learn how to fix, bumper scuffs, mirrors, scratches and stone chips. Why limit yourself to only learning small area type, basic repairs and painting? Not to mention being trained on and forking out for 'specialised smart repair tools and consumables'. My 5 day car painting course is much more advanced and will not only teach you all of the above but will advance you on to more complex and larger area painting and repairs, saving you a fortune along the way.

I know I said non-biased, but I can't help it here. I'm completely against smart repair franchises, in every way. £13000-£35000 to buy into one is nothing short of criminal, in my opinion. If you're considering this, take your head out of those glossy brochures and do some research. If you can afford that kind of cash, come and take my 11 day course instead. After leaving me with a big tip, go and set up a state of the art body shop and your odds of success rate will go right up.

Over the years, regular smart repair work has gotten less and less. The market is flooded and just like a cracked windscreen (which used to be done by a smart repair guy), the big auto and insurance companies are now taking over all of this in lots of areas. So, be careful how you invest your money.
| | |
| --- | --- |
| | College and Accredited Courses |
College courses:
Most of us understand how these courses work; an officially stamped certificate from a governing body is awarded at the end. I have experience working with Darlington College in their body shop department; therefore I received a good insight into how things are run. In fairness, I really can't be compared to this kind of course. Although our core methods are very similar, I only teach you the theory you need to know to get you through the job, from start to finish. If you want to learn the chemical structure of paint, then I'm sure this is something you can research yourself. College courses are great for kids, who want to go down the car body shop route, and have the time for it but not for those who don't have years to learn how to paint.

Accredited courses:
Again the methods and delivery will be similar. In truth I don't have a great deal of experience with this type of course and they are aimed at the car body shop industry. I would assume they are well-run and organised, and could possibly equip you with standardised official knowledge, as well as the working practices of a modern car body shop. If that is your goal, then I would recommend this type of course to you, however if time, standards and versatility are your goal then I can offer a better solution
"Now ask yourself, are my courses value for money? Have a closer look at what they cover in terms of, the level of commitment and the cost we put in to you. If you can find a course that offers you more, let me know, I will gladly give you training for free!"